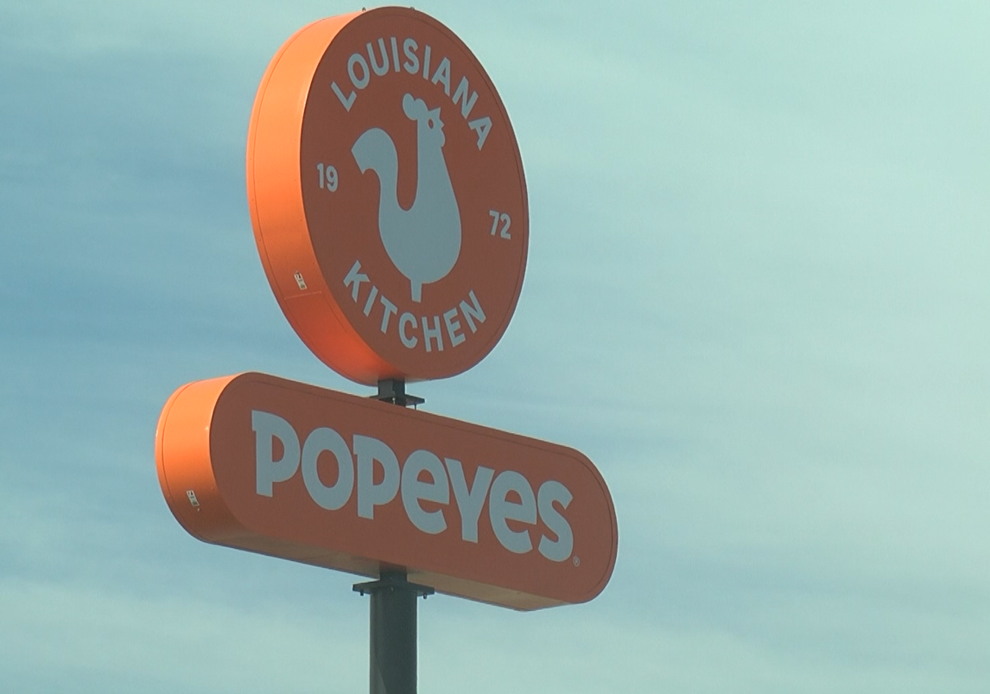 KENNEWICK, Wash. — Shining in the blue sky like a bright orange bat signal, the Popeyes Louisiana Chicken sign stands proudly off W Clearwater Ave and Vista Way along one of Kennewick's busiest intersections.
Thursday marked the fast food franchise's grand opening and the end of a 2.5-year wait.
Hundreds of Tri-Citians showed up to support with cars lining up around the block for hours.
One customer told KAPP-KVEW's Ellie Nakamoto-White that they had been waiting "for years" for a Popeyes to open in Tri-Cities, as the nearest restaurant is in Sunnyside.
Keyon Dickerson and his grandfather said they had been waiting since 6:00 a.m., despite the restaurant opening four hours later.
"I'm trying to get me a spicy chicken sandwich, some mashed potatoes, some macaroni and cheese," Dickerson said. "I'll probably come often every few weeks probably something like that."
His grandfather, however, had a different answer.
"I'm coming every day 'cause I love me some chicken," he said.
Denae and Desirae Rodriguez, both Popeyes fans, even had a timer going to mark their wait "until we get some chicken."
GRAND OPENING: The Tri-Cities' first Popeye's is officially open and hundreds of people are in line to get their hands on some chicken!

Hear more from @ellienw_news during KAPP-KVEW Local News at 5:00 p.m. pic.twitter.com/QPVtuwbQLZ

— KAPP-KVEW (@KAPPKVEW) August 4, 2022
Besides the coveted spicy chicken sandwich, other customers found themselves gravitating toward a wide range of menu items.
"I got some chicken tenders and a chicken sandwich," said a man named Yahir. "It's pretty crispy, buttery, delicious."
Ann Baldwin, who moved to the Tri-Cities from California about four years ago, said when she saw the Popeyes was opening, she told her husband, "we gotta go."
District Manager Randy Caudill said he had expected a large turnout.
"Tri-Cities hasn't disappointed and it's amazing," Caudill said. "Everybody's working hard and they're having a great time while they're doing it."
Luke Pisors, the CEO of Ambrosia QSR which is the operator of this Popeyes, added that he was "excited" to be in this region.
Officials are also working to open up a Pasco location before 2023.
The Kennewick location will be open daily from 10:30 a.m. to 11 p.m. at 240 N Ely St.
RELATED: 
Tri-Cities first Popeyes set to open off U.S. 395 in Kennewick
Popeyes' chicken sandwich is so popular it's adding nuggets to the menu